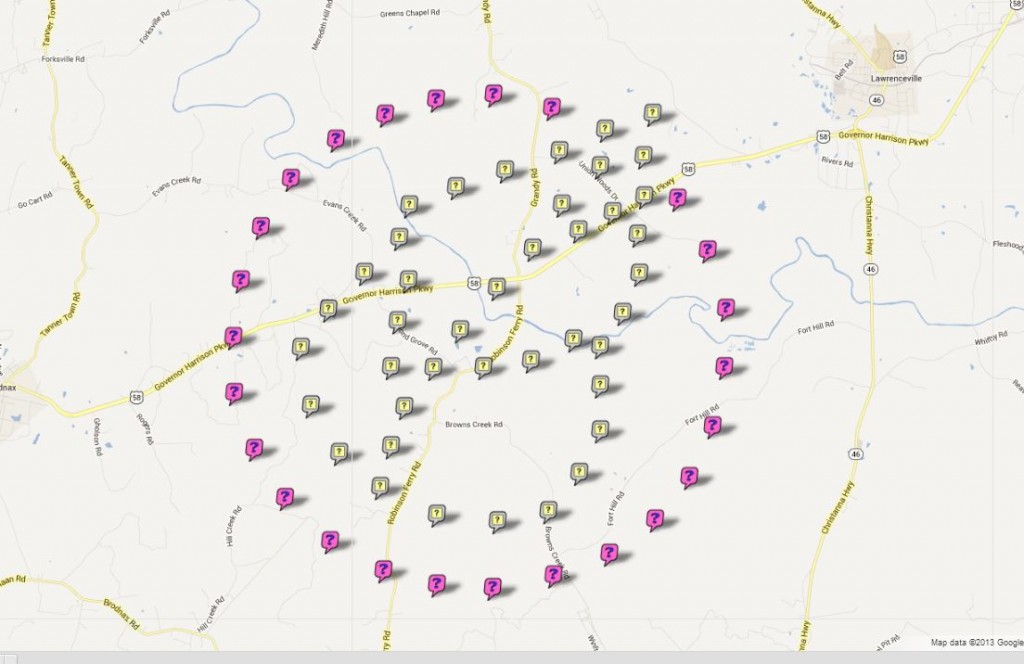 Volunteers for the Tobacco Heritage Trail have created a special geocache project called GeoArt. To generate excitement over the project, the volunteers are having a launch party and geocaching event on August 2nd at the Lawrenceville United Methodist Church starting at 8:30 a.m.
There are many flavors of geocaching that add twists to the standard fare. GeoArt follows the same basic rules as classic caching, however the difference is with the coordinates. A view of the cache map will show the coordinates for each of the 60 caches in the shape of a picture. In this case the picture is a large encircled tobacco leaf – the THT logo. Hence the name, GeoArt. However, the actual caches are not hidden at these artistic coordinates. When a cacher clicks on the cache on the webpage it reveals a mystery question that must be answered correctly to get the actual coordinates which lie along the Tobacco Heritage Trail in Brunswick County. All the questions for this project pertain to Brunswick County and Tobacco Heritage Trail history and fun facts. Ex:
This post office, located in Brunswick county, is inundated with mail each February by those seeking a something unique for someone special. 
A. Lawrenceville
B. Broadnax
C. Valentines
Already cachers from as far as Richmond and Virginia Beach have caught wind of our geocache event and are enthusiastically rsvp'ing. Over twenty individuals have already indicated that they plan to attend, one of them commenting on the webpage, "Looks like Lawrenceville is going to have a population explosion August 2nd. Looking forward to it!"
This is a free event on a free trail! What a great opportunity for a family summer outing before school starts up again that wont cost anything and will create great memories!
If you've never been geocaching or even heard of it, here's what to expect for this day:
Geocaching is modern day treasure hunting using a GPS device. You can use a handheld GPS if you have one, or you can download a free app on your smartphone. We recommend c:geo. You'll also need to visit www.geocaching.com to sign up for your free account so that you can access all of the coordinates for the treasures that are hidden around the world, country, state and even in some of your town parks and restaurants!
On August 2nd, meet at 300 W. Church St., Lawrenceville, Va at 8:30 a.m. for a brief tutorial and introduction of the trail and this particular geocaching project. You should bring some paper and pencils, because you're going to need to solve some simple puzzle questions to get the coordinates for each geocache before you hit the trail to find them. Once you're ready, enjoy your excursion by bicycle or on foot. Just be forewarned that the caches cover a six mile stretch. You may end up starting your adventure on August 2nd and finishing it another day – that's okay! All the information you need to find these caches can be found on the internet THT GeoArt page. So, if you can't make it to our launch party, you can come out on any other day and try your luck at finding all 60 caches that make up the GeoArt trail logo.
If you have any questions, contact trail coordinator Heather Susee hsusee@nullsouthsidepdc.org. This should be a fun day fueled by the excitement of so many cachers on the hunt! We hope you'll join us.