The overhead tree canopy is especially lovely and will afford ample shade to trail-goers on sunny summer days. Though this one mile trail section is within town, there is a feel of being far away from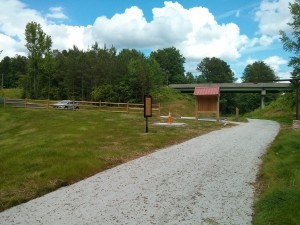 the hustle bustle of everything with the wild vegetation and serenity of the woods surrounding the path.
Historical Boyd Tavern will have a rest facility available for trail users. Volunteers will be maintaining the Boydton trail. If you would like to lend a hand to trail maintenance or promotion, please contact Heather Susee: hsusee@nullsouthsidepdc.org or (434) 447-7101.
History
Boydton is the counts seat of Mecklenburg County and was originally known as Mecklenburg Courthouse. In 1812, "Boyd Town" was established by act of the General Assembly and named for Alexander Boyd, a Scottish immigrant who had inherited through marriage the property on which the original courthouse, prison and stocks were sited.
Notable Properties
Boyd's Tavern: This 18th century structure is thought to have been constructed by Alexander Boyd Sr. or his son, Alexander Boyd Jr. The building served county residents coming to the courthouse for legal business. The building is listed on both the National and State Historic Registries.
St. James Episcopal Church and Cemetery
Boydton Methodist Church
Cedar Crest: A Greek Revival house on Jefferson St. constructed ca. 1812 by William O. Goode,  a local lawyer and State and National Representative.
Mecklenburg County Courthouse
Old Goode Law Office
Boydton Presbyterian Church
Alfred  Boyd Store Building
Tailors Shop: A simple brick office building constructed ca. 1842 as a tailor's shop and subsequently used as a post office and bank.
Goode Bank Building
Boydton Baptist Church
Boydton Town Hall
Boydton Jail
On the Hill: A dwelling located southwest of town center, originally constructed ca. 1830 and extensively remodeled in Victorian style in 1887.
Trinity Episcopal Church
Dinning Hall of Mecklenburg Female College
Carter Williams House