Clarksville, VA will one day be part of the Tobacco Heritage Trail system. As of now, there is no news for this section of the trail. You can make a difference! If you'd like to help trail development in Clarksville and would like to make a financial gift please contact rtuck@nullsouthsidepdc.org or click below to make a tax deductible donation on line!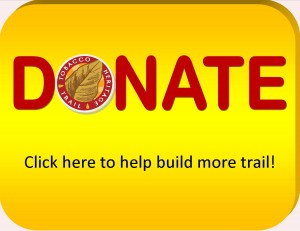 History
Clarksville is one of several towns formed during the 19th century along the Roanoke River in Mecklenburg County and is closed linked to the development of local and regional transportation networks. Tobacco played a paramount role in Mecklenburg Count's 18th century economy. Before tobacco could be sold at market, it had to be inspected by publicly appointed inspectors. Prior to the establishment of Mecklenburg County's first tobacco inspection warehouse in 1793 all locally produced tobacco had to be transported overland to Petersburg for inspection and sale. For farmers living south of the Dan and Roanoke Rivers, this required river crossing for the overland transport of tobacco to Peterburg. By 1800, one of the most widely used crossings was Royster's Ferry located near modern day Clarksville.
Clarksville was formed in 1818 on 100 acres of land belonging to Clark Royster, the town's namesake. The town occupies the site of a ferry landing and tavern operated by Royster just below Occoneechee Island and the confluence of the Dan and Staunton Rivers. From there tobacco was shipped south into North Carolina as well as north to Petersburg and Richmond. By 1853, Clarksville was home to as many as ten tobacco factories including, most notably, Moss Brothers & Company, one of the largest manufacturing business in the country in the years prior to the Civil War. With the end of the Civil War and the shift to bright-leaf and flue-cured tobacco, the new Richmond & Danville Railroad reinvigorated the town's tobacco-based economy which had declined severely during the War.
Notable Properties
Clark Royster House: Located at 300 Rose Hill Avenue
Sunnyside: A 25-acre estate containing an early 19th century plantation house, outbuildings, and cemetery. This property is listed on the National and State Registries.
Moss Tobacco Factory Office
Clarksville Regional Museum