Drakes Branch, VA will one day be part of the Tobacco Heritage Trail system. As of now, there is no news for this section of the trail. You can make a difference! If you'd like to help trail development in Drakes Branch and would like to make a financial gift please contact rtuck@nullsouthsidepdc.org or click below to make a tax deductible donation on line!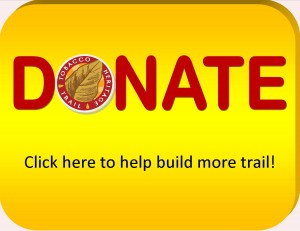 History
This small town owes its origins to the construction of the Richmond & Danville Railroad in the early 1850s and the siting of the depot here. Union soldiers seeking to cut off Confederate supply lines during the Civil War destroyed the R&D tracks to Drakes Branch depot. In the late 19th and early 20th centuries, Drakes Branch warehouses provided a strong market for dark leaf tobacco and the small town was incorporated in 1903. the early 20th century bright leaf tobacco shifted the tobacco markets away from Drakes Branch and the town population declined during the Depression.
Notable Properties
Mount Calvary Baptist Church: this small church located west of the Historic District was constructed in the late 19th century in a style transitional between Gothic Revival and Queen Anne.
Grace Episcopal Church: this brick Gothic Revival church was constructed in 1932. Originally known as Roanoke Church, the name was changed to Grace Episcopal when the church moved to Charlotte Courthouse in 1858. In 1878 it relocated again to Drakes Branch.
William Pettus House: this Queen Anne style home was constructed around 1900. the house is surrounded by various contemporaneous outbuildings.