This pictures shows the future trail from Victoria headed towards Kenbridge. Hopefully they will connect one day!
Kenbridge, VA will eventually be part of the Tobacco Heritage Trail system. As of now, there is no news for this section of the trail.
You can make a difference! If you'd like to help trail development in Kenbridge and would like to make a financial gift please contact rtuck@nullsouthsidepdc.org or click below to make a tax deductible donation on line!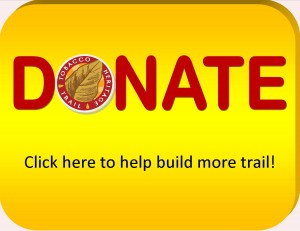 History
Kenbridge began around 1890 with the establishment of a post office, but did not grow substantially until construction of the Virginian Railroad through the town in 1906. The first tobacco warehouses were built in Kenbridge around 1910 and the town soon ranked fourth in tobacco sales in Virginia.
There is a five-block residential district along both sides of Fifth Avenue between Broad and Maple Streets that comprise the Historic District. It contains the earlisest dwellings in Kenbridge built for some of the town's most prominent  citizens. Late 19th, early 20th century architectural styles represented among the thirty-nine large, broad-lawned residences within this district include Queen Anne, Colonial Revival, Classical Revival, Bungalow/Craftsman, and Art Deco.
Notable Properties
Farmers-Planters Tobacco Warehouse
Mason & Ruby Mule Stables
Kenbridge Hotel