Keysville, VA will eventually be part of the Tobacco Heritage Trail system. As of now, there is no news for this section of the trail.
You can make a difference! If you'd like to help trail development in Keysville and would like to make a financial gift please contact rtuck@nullsouthsidepdc.org or click below to make a tax deductible donation on line!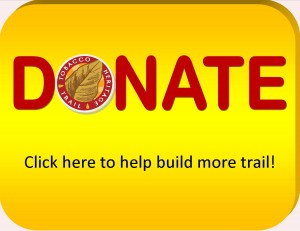 History
Keysville is located on the Richmond & Danville Railroad, constructed in the 1850s, and King's Road or Highway, a major regional roadway dating to the mid-18th century. In the first decade of the 19th century, John Key operated a tavern and stage relay station on his property along King's Road and within twenty years the location had become known as Keysville. The Richmond & Danville Railroad, completed in the decade preceding the Civil War, was destroyed by Union troops during the War along with Keysville Depot. The town was rebuilt after the War, adding two new hotels and new residential and commercial lots before incorporating in 1887.
Notable Properties:
Keysville Railroad Station: A well-preserved example of an early 20th century railroad station, the Keysville Station was constructed in 1915.
Charlotte Hotel: Constructed around 1907, the Charlotte Hotel is a large, two-story frame building in the Queen Anne style. The hotel was converted to efficiency apartments following the demise of passenger rail travel through Keysville in the mid-20th century.
Morton Hall: Constructed around 1894, this large Queen Anne style house was built by Keysville Mayor Jacob W. Morton following the destruction by fire of an earlier house on this site.