Scottsburg, VA will eventually be part of the Tobacco Heritage Trail system. As of now, there is no news for this section of the trail.
You can make a difference! If you'd like to help trail development in Scottsburg and would like to make a financial gift please contact rtuck@nullsouthsidepdc.org or click below to make a tax deductible donation on line!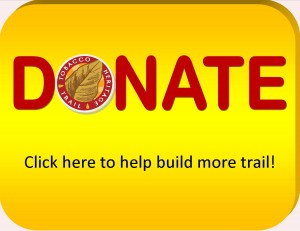 History
Scottsburg is sited roughly at the intersection of the old King's Road and a road leading west from the Halifax courthouse. The town was named for General John Baytop Scott, a local landowner, Revolutionary War officer, and member of the Virginia legislature. Scott also owned a sawmill and grist mill on Difficult Creek. Scottsburg had a post office by the early 19th century and in 1830 boasted a tavern, a store, a blacksmith's shop, and a population of 40. With the coming of the railroad in the late 1950s, a depot was constructed in Scottsburg. Like other southern Virginia towns, Scottsburg prospered in the late 19th and 20th centuries, in part through its tobacco market and smoking and chewing tobacco manufacturers. The rise in machine-manufactured cigarettes and declining popularity of chewing tobacco together with the consolidation of the tobacco market in South Boston led to the closing of Scottsburg's tobacco facilities in the early 20th century.
Notable Properties:
Scottsburg United Methodist Church: A timber framed Greek Revival church constructed ca. 1890 at 2220 Scottsburg Rd.
Old Hotel: A two-story Colonial Revival building constructed around 1900 in the center of town.
Scottsburg Baptist Church: A brick, Romanesque Revival-style church constructed in 1884 at 1005 McDonald Rd. This church was first organized in 1774 as the Musterfield Church and was re-established in Scottsburg in 1884.