Virgilina, VA will eventually be part of the Tobacco Heritage Trail system. As of now, there is no news for this section of the trail.
You can make a difference! If you'd like to help trail development in Virgilina and would like to make a financial gift please contact rtuck@nullsouthsidepdc.org or click below to make a tax deductible donation on line!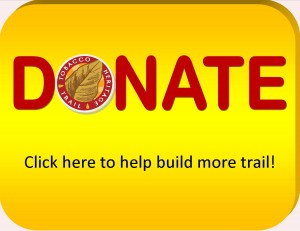 History
Virgilina dates to the 1890s and the opening of nearby copper and coal mines. The presence of the Atlantic & Danville Railroad after 1891 was also a factor in the town's formation and location.
Notable Properties
Carolina Street Warehouse
Virgilina Train Station: A one-story, timber-framed, combination passenger/freight depot constructed ca. 1930.